What we do...the way we see a home when inspecting.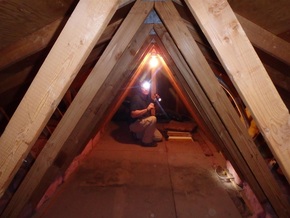 Each component and system of a home are affected differently by the deteriorating effects of our natural world. For example, roof coverings age and wear primarily by the Sun's radiation, whereas the wall finishes, foundations, and overall structure of the home are mainly degraded by the various effects of moisture....the importance of discovering the points of moisture entry into the interior of the home can not be overstated! A damaged flashing, drip collar or leaking water heater can lead to host of problems that can be expensive to repair. Preventative maintenance also plays an critical role in preserving and adding longevity to a structure and should become part of your regular upkeep of your home. Training and practice have given me a pair of "home inspection glasses" to put on at every inspection which allows me to look at the home from this perspective. Being able to piece together and report to you the effects of a roof leak down through the attic, ceiling, walls, floors and eventually to the crawlspace gives me the feeling that I've done my job right to help you make the most informed decisions.
---
The importance of inspecting every Roof, Attic & Crawlspace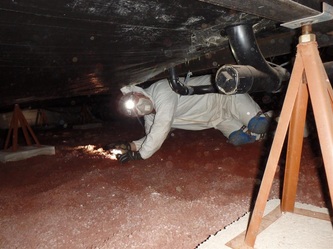 As inspectors, we may be the only person in the last quarter century to enter into an older home's attic and crawlspace....that's a long time.... I feel these are the most important areas of the home to inspect because of their hidden nature and problems found in them have a tendency to continue unnoticed for quite some time. My promise to you....IF I CAN SAFELY ACCESS THE AREA WITHOUT MY PRESENCE CAUSING DAMAGE, IT WILL BE INSPECTED AND REPORTED-PERIOD!
---
Contact Information, Agreement & Report Download Link
I worked as a sub-surface petroleum geologist in the natural gas fields of Pennsylvania and West Virginia for 9 years
after graduating with a BS degree in 1983. I then refined, practiced and shared my art talents when I moved to Flagstaff in 1993. After working various construction jobs, I settled into flooring and have had a retail store for 10 years. I received my training at "Inspection Training of Arizona" and have had the pleasure and good fortune of working with 5 seasoned inspectors here in Northern Arizona and am now able to bring MY inspection service to you!To schedule an inspection or for more information please contact:
Eric Kastanek
5910 E Camden Rd
Flagstaff, AZ 86004
thoreauhomeinspection@gmail.com
AZ BTR Certification # 58616928-226-8948
... I always answer!
To view or print a copy of the
PropertyInspection Agreement
click
HERE