Our Milky Way Galaxy over Lake Mary (needing a lot more open minded inspecting)
Home Inspection for Buyers
---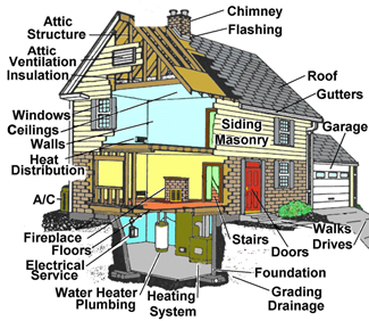 The most commonly performed inspection service by Thoreau Home Inspection is the Buyers Inspection. This type of inspection is also called a pre-closing inspection since it is performed after a contract has been agreed upon. This diagram gives you a visual representation of the systems and components included in a home inspection. The Arizona Standards of Professional Practice for Home Inspectors has been established to provide minimum inspection guidelines and make public the services provided by private fee-paid inspectors and can be seen HERE. A Thoreau Home Inspection exceeds The Standards by far and also as a courtesy informs you of elective improvements that are suggestions that could help the various systems of the home function more efficiently, increase the longevity of the structure or add a higher level of safety for the occupants.
---
---
Hiring a qualified, professional and certified home inspector to evaluate your property after you've agreed upon a contract is one of the best investments you can make for your new home.

At Thoreau Home Inspection we provide you with an honest, factual and non-biased report on the property being considered. Typically, we suggest you attend the inspection two to three hours after the scheduled start time to allow us time to finish with our documentation. We then review all the findings with you as a photo slide show presentation and/or walk any problem areas of the property and answer any questions you may have. Can't make it to the inspection, no worries, we can access the property with the "Supra Key" and keep the process moving for you.

Reports will be available within 24 hours(usually less) and they will be e-mailed to you directly.



To schedule a inspection call, text or email Eric at 928-226-8948 thoreauhomeinspection@gmail.com .................. I always answer!
We inspect 7 days a week...Saturday & Sunday inspections welcome!